There is never a dull moment in volunteering, this is quite true at Bedrock, Since our merger with The Jumbo Sound, we've had a lot on our plate. I've had a team of Trustees to oversee different aspects of the merger  – But the bit I've gotten myself most involved in is the studio rebuilds!
It's fair to say I've made quite a few changes over the 10 years I've been at Bedrock.
Mostly involving the way the studio operates. With temporary studios, 'that'll do' fixes and the last one 'functional & practical until the next one'… and now the current one.
Not only is it my favourite studio build I have been involved with – It's also the best looking!
Of-course I've not done it alone, I've had Lee working with me on the projects. The studio at Queen's in Romford is a small rectangle. That's got awful acoustics, and in all honesty is a bit all over the place, oddly placed plug sockets. A window into the office and a door that doesn't have an automatic closer (which can be very annoying…).
But this is the Third and FINAL! (take note Lee) studio build for the studio at Queen's.
It's got everything I envisaged. It looks professional. It looks tidy & most of all I'm proud of it.
So what's this new Romford studio box got? 
Sonifex S2 mixer (acquired through the Goodmayes (Jumbo) merger);
This actually created the first problem, the woodwork at Goodmayes was actually too big for the Romford studio. It left very little space to manoeuvre, and the only orintation the desk would go, resulting in the presenter lookin at the window and no room for co-hosts. Which resulted in us buying…
A Bespoke Studio Desk.
Sonifex have a range of furniture for S2 mixer that's modular, which looked nice, but resulted in limiting the space again, Lee and I looked around and found Broadcast Warehouse also done furniture, but again the suggested ones would limit our space down.
Sitting in the studio one afternoon, I got the the idea of a droplet shape, resulting in the presenter not directly facing the wall or window, but rather towards the door, with the mixer modules angled appropriately to maximise space.  So we drew the idea out on a whiteboard (because my best ideas are scribbled on these). so Lee measured up, resulting in a Bespoke desk for Romford! – Unique to our studio only!
4 Microphones.
Another request of mine was to introduce a 4th Mic if we had room, some of our team shows resulted in 2 – 4 people being in the studio at once, and often resulted in two people sharing.
We're using B-1 Behringers in the studio (I actually own one of these personally, and I quite enjoy the warmth the mic has)
Extra PC's
So the presenters in our studio have their Myriad Playout PC, that was actually rebuilt with a rack-able PC case. They also have an 'Internet PC' for emails, research, spotify etc…
We decided to include a second 'Internet PC' for the co-hosts to use, as the one for the presenter was extremely far away from the co-hosts. both these actually plug into the desk… but only the presenters one is able to record.
Mic Live Light
Okay this one is cheating a little bit – We already have a Mic Live LED light in the window in our office, Plus we have info-screens with cue lights on… so why the extra one?
Well we decided this was more of a luxury extra, but would also be in eye-shot of everyone, In the studio or the office. when it's on… don't enter! (But you always get someone who does.)
Speaker Poles
This was an afterthought. We realised that with the new position the speakers needed to come down from the walls and be repositioned to be central to the presenter – now in an ideal world I'd love to cealing mount the speakers but that would breach the lease. So we opted for speaker stands, it rises them off the desk & keeps the stationary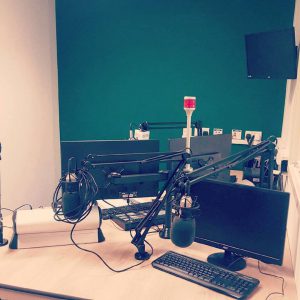 Apart from some of these extra toys, we also repainted the whole room white. Plus a featured green wall, that will have a massive white Bedrock logo on it soon.
The only real problem we've encountered is the acoustics, since we dumped all the old panels (that had seen better days) we've not really focused on what's going to replace them.  Foam 'Egg Box' panels seem a reasonable idea, but we know people will start to pick at the texture and it will make a mess – I'm opting for flat bevelled edge squares, but the challenge will be trying to mount them onto the walls…
What about Goodmayes? 
Well they are getting a new fancy studio too (It's due to be put together soon (May 2016)).
This studio is receiving the equipment that came out of Queen's but it's perfect as the Goodmayes studio is being used less than the Romford one.
Sonifex S0
It's a fantastic compact mixer & a great workhorse of a desk. – there's one still sitting at Queen's in the office production area.
New Desk.
The old one was water damaged, but as mentioned above was too big to fit into Queen's, we tried to offer it out to other stations. sadly no takers so it's gone to the local recycling centre.
The new desk is a fairly standard rectangle but has plenty of room for the mixer and gear.
No Mic Live Light.
Now That's a Lie! – There are two info screens at Goodmayes that have a Mic Live cue light on them, we debated keeping the old ones, but didn't like the amount of wires required, so the screens where given the job.
PCs?
Yes, it's got a Myriad Playout PC, an Internet enabled PC. Plus some other engineering bits.
Speaker Poles!
The old Goodmayes studio had the speakers wall mounted behind the presenter, but again this involved running wires all round the room and we're avoiding running masses of wire.
So like Queen's, speakers are being screwed onto the desk on poles! much neater!Goodmayes was painted up a few months back, plus had some new carpet tiles laid, it'll also get Logo'd up. Oh and it does have a small green 'feature wall'… just because we really like green!
The most rewarding bit so far is how 'impressed' they are with our studio builds.
Hopefully the programmes that are broadcast from them are just as impressive, we've given presenters facilitates – let's hope they are used. (Fingers crossed)