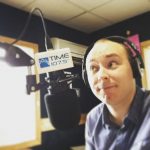 I am a former professional in the broadcast industry, having worked in local commercial radio working primarily in Production, Presentation and Programming.
Despite not working in broadcast full time any longer, I am still passionate about radio and like to keep updated with what's going on in the industry
Production, Presentation & Programming.
Commercial Radio:
Former presenter at Time 107.5, hosting The Weekday Afternoon Show across East London & South Essex. The show was regularly sponsored and featured a number of interactive features;
Afternoon Delights: Relaxing songs that go with that 'compulsory' tea break in the afternoon.

(It's a bit like diving into the biscuit tin and finding the last chocolate digestive and eating it with pure delight).
80s Vs 90s:  Two songs go head to head, listeners asked to vote for their 'All Time Favourite' with the winning song played.

School Run; We play the biggest charting songs while the kids are in the car with the parents…(Let's be honest, parents only 'Like' new music, just because they think they are young)
Plus I have confidently covered a variety of shows from Breakfast, Drive & Daytimes and have covered specialist shows including Rock, Sport, Chart, Soul & Dance. I am fully proficient in Live and Voice Tracked presentation.
I was the long term producer of Eric Hall's  Making Memories show on Time 107.5, Which consisted of nostalgic 'oldies' music with the celebrity guest interviews, taking callers to air, while driving the programme, ensuring all timings were met.
I have also helped in the audio production of numerous commercials, competitions and promotions, Including being a voice artist for promotions for other stations in the LycaMediaII Group.
Additionally, At Time 107.5 I assisted in scheduling and integration of Advert Logs using RCS Zetta, Selector and Linker
Internet Radio: I was approached by Decades Radio working with them in 2017, producing a version of 'Diddy' David Hamilton's Decades Radio Million Sellers show, I also came up with a system for selecting million selling songs.
Plus occasional Cover on Breakfast for Dean Martin
(The Breakfast Show was simulcasted across community radio station NuSound 92FM (East London).
Hospital Radio: I am still actively involved with my local station Bedrock Radio, as a Trustee & Chair. I oversaw the merger with Goodmayes Hospital Radio in 2015/16.
I have been a key Trustee in changing the direction of the charity, converting to a CIO format, to push towards becoming a wider 'Community Health' radio, as changes within NHS services are not sustainable for traditional 'hospital radio' service.
In my role as Trustee, I oversee scheduling and production of the station & train other volunteers in using Broadcast Radio (PSquared) Myriad V5 & the studio equipment.
Additionally I have provided help to hospital radio stations repair and refit aspects of their studio.
Other:  I'm working with EduNet as a client of theirs is a community station Nomad Radio 92FM (West London), I help the local staff at Nomad with Myriad Playout & use of their studio.
Here is my last radio demo. 
& You can hear me here; 
Live work.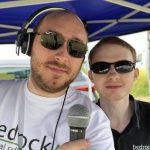 Occasionally I have hosted Outside Broadcasts & Public Address, gathered Vox Pop's and Interviewed people for Commercial & Hospital Radio (Some locations have requested to book me for their events).